The Bauer Nexus N7000 Elbow Pads feature (for protection) an injected cap as well as a Bicep and wrist guard constructed of MD foam. When it comes to Fit and Mobility, players may expect a classic fit. The Interior Elbow joint features an interior donut sling while a 3-strap system and forearm lock strap help keep your pads in place. Liner is a hydrophobic mesh to keep you dry during gameplay.

Bauer Nexus N7000 Elbow Pads
Protection:
• Injected cap
• Bicep Guard: MD Foam
• Wrist Guard: MD Foam

Fit/Mobility:
• Classic Fit
• Interior elbow joint is a donut sling
• Strapping System: 3-strap system with forearm lock strap
• Liner is hydrophobic mesh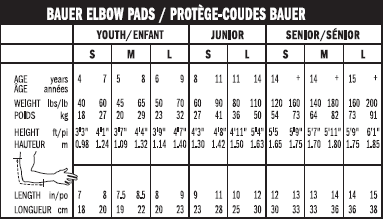 Product Usually Ships Within 1 Business Day. This product can not be shipped out of the US.