BAUER Supreme S 190 Griptac Hockey Stick- Sr '16
Style/Model #: HSS190GRSR

$114.99 $199.99
Currently Unavailable
Spend $199 and get 6 months to pay +2% Cash Back with Blispay Learn More
The Bauer Supreme S 190 GripTac Hockey Stick features the POWER SENSE CORE 2 blade core and uses the Premium 12k carbon composite construction while introducing MPK Technology which is new for 2016. A Pure Shot Blade Profile and Square double concave shaft dimensions with Tactile texture that enhances grip security with a natural feel.

Bauer Supreme S190 Griptac Composite Hockey Stick
POWER SENSE CORE 2

• The POWER SENSE CORE 2 blade is constructed with the next evolution of SENSE technology. An updated process has integrated SENSE layer materials with the TeXtreme© carbon fiber on the outer portion of the blade. By integrating SENSE layer materials, overall blade weight is reduced and balance is improved while maintaining key dampening performance attributes of SENSE technology.
• Premium 12K Carbon Composite Construction
MPK-Maximum Power Kick
• All new taper geometry with lower taper initiation for maximum energy output with minimum effort using a stiffer lower shaft that pushes the kick point even higher, creating a stick that is easily loaded- perfect for powerful slap shots and one-timers. This stick is ideal for those who lean heavily into their shots.
PURE SHOT BLADE PROFILE
• The optimized blade profile increases the cinnection point between the blade-hosel transition of the stick. This reduces the amount of blade deflection- twisting or opening of the blade while shooting- improving blade control and delivering pimpoint shooting accuracy
SUPREME POWER SHAFT
• The Square, double concave taper is thicker in the hosel area to work in coordination with the Amplified Mid-Kick flex profile to minimize shaft deflection during powerful shots, optimizing energy transfer and keeping the blade aligned for accuracy
S190 TACTILE
• The S190 underside TACTILE is strategically placed in order to enhance grip without constricting slide motion. The Rib height and spacing provides a natural feel that extends beyond traditional placed TAC-SPIRAL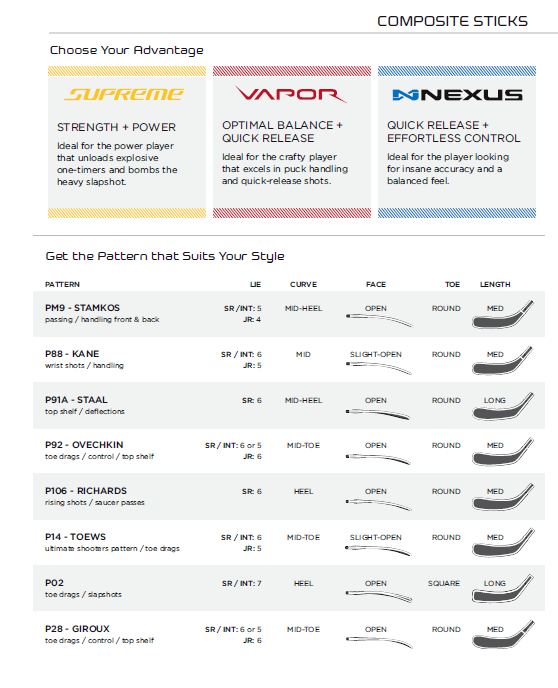 Product Usually Ships Within 1 Business Day. This product may not be shipped out of the US or to a freight forwarder.