BAUER Supreme S190 Grip Hockey Stick features premium 12K Carbon Fiber construction. An R3 Resin system provides players with an elite-level of durability and combines with the carbon fiber wrap to maximize energy transfer while making plays.

Flex Profile
The Flex profile is designed with a .520 power taper to boost torsional stiffness and maximize loading with less torque and twist. Maximum Power Kick (MPK) Mid-Flex profile offers players a stiffer, thicker lower third of the shaft, and a softer upper handle.

Geometry
Offers players squared corners with straight sidewalls for a traditional feel and maximum grip.

GripAffords players a tacky grip finish.

Paddle / Hosel
PowerSense 2 core with pro-spec 12K carbon fiber offers a combination of responsiveness in addition to Sense Technology, which is a rubberized layer infused into the outer layer of carbon fiber. Softer linear stiffness enables greater puck contact time.

Pure Shot Blade Profile
Offers additional reinforcement to the connection point between the hosel & shaft.

BAUER Supreme S190 Grip Hockey Stick

Construction
• 12K Carbon Fiber
• R3 Resin System

Flex Profile
• Supreme Power Taper
• Maximum Power Kick (MPK)

Geometry
• Squared corners
• Traditional feel

Grip
• Tacky finish with Tactile Texture

Hosel / Paddle
• PowerSense 2 Core with pro-spec 12K Carbon Fiber
• Pure Shot Blade Profile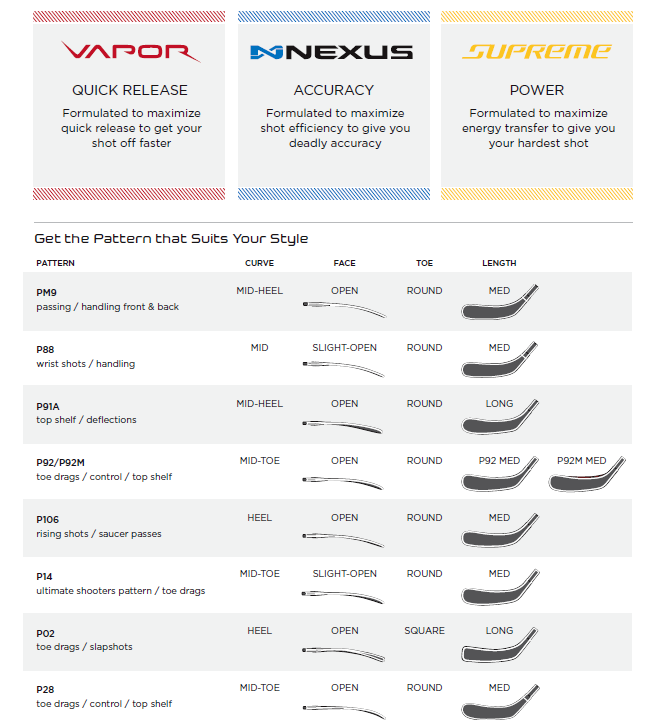 Product Usually Ships Within 1 Business Day. This product may not be shipped out of the US or to a freight forwarder.