CCM Jetspeed FT360 Hockey Skate- Yth
Style/Model #: SK360JYTH

$89.99
In Stock
This product is not eligible for any discounts! Shipping limited to United States only!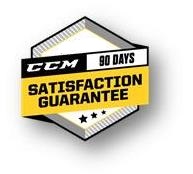 CCM Jet Speed FT360 Hockey Skate features an injected quarter package with composite skin for a durable boot with structural stiffness. A Heavy duty micro-fiber liner with durazone abrasion protection provides comfort and a high resistance to wear. A 7mm felt tongue with embossed lace-bite protection provides reinforcement layers for increased comfort and protection. Injected outsole with exhaust system helps with the energy transfer in every stride. CCM Anatomical response footbed provides support & comfort. A Speedblade 4.0 holder provides proven durability with an increased attack angle that provides greater strides and tighter cornering. A Speedblade stainless steel runner gives players a long lasting edge life and increased performance.
CCM Jet Speed FT360 Hockey Skate

Quarter Package
• Injected with Composite Skin
• Durable boot with structural stiffness

Liner
• Heavy Duty Micro-Fiber with Durazone Abrasion Protection
• Comfortable and has high resistance to wear

Tongue
• 7mm Felt Tongue with Embossed Lace-Bite Protection

Outsole• Helps energy transfer with every stride

Footbed
• CCM Anatomical Response
• Provides support & comfort

Holder• Proven durability with increased attack angle
• Provides great(er) strides and cornering

Runner
• Speedblade Stainless Steel
• Long lasting edge
• Long term performance

Product usually ships in 1 business day. This product can not be shipped out of the US.