CCM Jetspeed Hockey Skate- Sr
Style/Model #: SKJSSR

$309.99 $799.99
Currently Unavailable
Condition: New
This product is not eligible for any discounts! Shipping limited to United States only!
The only way to reach Jetspeed is with the new CCM ROCKETFRAME™ Technology. The Composite shell is meticulously designed to wrap closely around the foot to improve heel lock. Lightweight components are carefully selected by CCM to compliment the ROCKETFRAME™ providing maximum foot speed.

A fully shaped composite shell provides advanced contoured support including improved heel lock for maximum speed. A Jet Protect tongue is designed with the Pro or Elite Skater in mind, multiple layer construction for enhanced lace bite protection without sacrificing comfort. The Heat moldable SpeedCore 2 Plus is an optimized contour shape with heat moldable technology that allows customized support for your unique foot shape.



CCM JetSpeed Hockey Skate

Quarter Package:
• ROCKETFRAME™ Composite: Fully shaped shell with improved heel lock provides contoured support for maximum speed

Core:
• Heat Moldable SpeedCore 2 Plus: Optimized contour shape with heat moldable technology for customized support

Liner:
• Dual Zone soft Touch Liner: SuperDry lightweight liner with DuraZone abrasion patch enhances comfort

Comfort Pad:
• Smooth Contour: Soft Pad for Superior foot comfort

Midsole
• Lightweight composite midsole: Increase support for enhanced blade to boot interface

Outsole
• Ultralite Carbon force with full exhaust: Balance between stiffness and weight with power channel for superior energy transfer to blade

Footbed:
• CCM custom support footbed: Customized arch support for comfort fit

Tongue:
• JetProtect Tongue: Multi Layer fabrication for enhanced lace bite protection and comfort

Ankle Padding:
• Multi Density memory foam: Symmetrical foam comfort pads that conform to ankle bone for customized fit

Holder
• SpeedBlade 4.0: Increases attack angle providing greater strides and cornering

Runner:
• SpeedBlade Hyper-Glide: Superior speed and glide for enhanced performance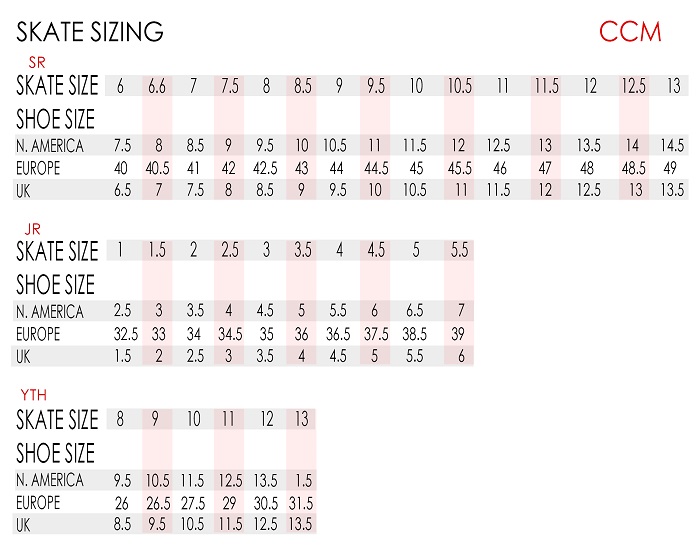 Product usually ships in 1 business day. This product can not be shipped out of the US.