CCM Tacks 9060 Goal Skate- Jr
Style/Model #: SK906GJR

$179.99
In Stock
This product is not eligible for any discounts! Shipping limited to United States only!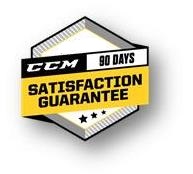 CCM Tacks 9060 Goal Skate features Metaframe technology with synthetic composite on the quarter package, speedcore 1 stiffness on the lightweight, thermo-formable core, a felt tongue with embossed lace-bite protection, HD Micro fiber liner with durazone abrasion protection, concave reinforced injection on the outsole, an anatomical response footbed, an extra light attack profile holder with low-rim design and reinforced toe to protect the goalie & skate. Prolite G Stainless steel runner.
CCM Tacks 9060 Goal Skate

Quarter Package
• Metaframe Technology with Synthetic Composite for a greater fit

Core
• Speedcore 1 Stiffness

Tongue
• Felt Tongue with Embossed Lace-Bite Protection

Liner
• HD Micro Fiber with Durazone Abrasion Protection

Outsole
• Concave Reinforced Injection

Footbed
• Anatomical Response

Holder
• Attack Profile Holder

Runner
• Prolite G Stainless

Product Usually Ships Within 1 Business Day. This product can not be shipped out of the US.