CCM U+ Shock LE Hockey Skate- Sr
Style/Model #: SRSKSHK

$139.99 $249.99
Currently Unavailable
Condition: New
The CCM U+ Shock LE model from CCM features a Vectorwear quarter for excellent durability. Comes with a microfiber liner and lightweight CCM footbed for comfort.

This skate includes a pro felt tongue found in the CCM U+ CL. This skate comes with E-Pro Proformance Lite Stainless steel scalloped runners. This Shock LE offers a new look to a great model of skates with features pulled from their high end skates to add an excellent value to a mid-priced skate.

CCM U+ Shock LE Hockey Skate

Quarter:
• Vectorwear

Liner:
• Heavy duty microfiber

Outsole:
• CCM U+ full graphic

Footbed:
• Lightweight CCM

Tongue:
• Pro Felt tongue with lace bite protection

Runner:
• E-Pro Proformance Lite Stainless steel scalloped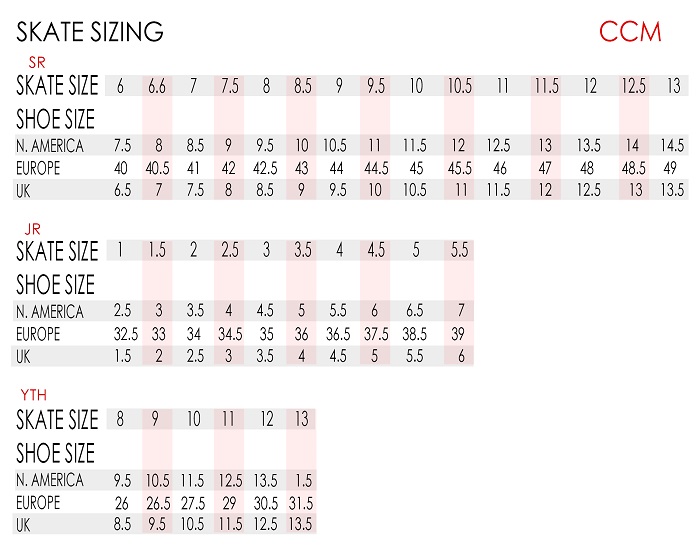 Product Reviews
Login to Write A Review
Outstanding
I truly am impressed with these skates and will continue to further purchase from your company no matter where I am in the world. I have been getting great use of the skates and they perform outstandingly. The price was more than fair and highly recommend
Good Intermediate Skate
I got these to replace my old Externo 60s. I liked my 60s but the boot separated from the blade holder. I went looking for a pair of skates that were reasonably priced and wouldn't break the bank but that would provide decent performance. These fit the
Excellent Bargain, Quality skate
Quality boot and blade for all levels. Hugs foot after molding. Skated 2-1/2hr practice session 2 days after molding and hugged feet w/o blistering etc. Had pro-level skate prior and boot was too stiff for my liking. This has a perfect balance of flex
Great value
Really comfortable and usable skate for the price. Not much break in time needed at all. Cheap laces and still have yet to see how durable they are but amazing value for someone trying to save $ and still get a decent skate.
Great for the price
tough outer shell. Stiff boot.
This Product usually ships within one business day