Warrior Woodrow Wood Goal Stick- Sr '10
Style/Model #: GWOODSR

$39.99 $69.99
Currently Unavailable
Spend $199 and get 6 months to pay +2% Cash Back with Blispay Learn More

Classic wood styling make this new Woodrow stick stand out from the crowd. Features a glass laminated birch core shaft, glass laminated birch core paddle, and Kevlar™ heel strip reinforcement. This stick is made in Canada so you can be assured the quality is top notch.
Warrior Woodrow Wood Goal Stick
• Classic wood styling
• Glass laminated birch core shaft
• Glass laminated birch core paddle
• Kevlar™ heel strip reinforcement
• Made in Canada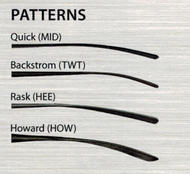 Product Reviews
Login to Write A Review
Glad to see this stick still in stock.
I loved this stick when it first came out. Coming from someone who breaks a lot of sticks, it is a great combination of price and performance.
Great and Heafty
Most would say that the weight of this stick makes it undesirable, I would argue this. I think this stick is great, it has a great feel, the weight helps in desperation saves and clearing the net. very Durable as well, used for 2 seasons of beer league an
Wood is good!
Lighter than my old Reebok 6K foam core, the Warrior Woodrow (and subsequent Swagger Wood) is a lightweight and durable stick for goal. Some may comment that there needs to be reinforcement along the non-ice side of the paddle and my answer is to tape the
Brainwashed by composites?
Used in league/lunch hockey. Great feel and balance. Best wood stick I've ever used. Great sound, sounds like hockey. Does show its use but cleans easy.
Product Usually Ships Within 1 Business Day