BAUER Vapor X500 Hockey Skate- Sr '17
Style/Model #: 1050568

$209.99
In Stock
This product is not eligible for any discounts! Shipping limited to United States only!
Bauer Vapor X500 Hockey Skate (2017) features a reinforced Trueform tech PU quarter package with X-rib pattern, Hydrophobic microfiber lining material, a 1-piece injected heel & ankle core for heel support, a Anaform foam ankle pad, Anatomical 40oz 2-piece felt tongue with metatarsal padding, a molded comfort EVA foam footbed, and a thermoformable upper.

The lower on this skate features a clear injected TPU outsole, TUUK LIGHTSPEED Edge Holder, and a TUUK super stainless steel runner.

Bauer Vapor X500 Hockey Skate (2017)

Upper
Quarter Package
• Reinforced Trueform tech PU with X-rib pattern

Liner
• Hydrophobic microfiber

Heel Support
• 1-piece injected heel & ankle core

Ankle Padding
• Anaform foam ankle pads

Tongue
• Anatomical 40oz 2-piece felt with metatarsal padding

Footbed
• Molded comfort EVA foam

Thermoformable
• Thermoformable upper

Lower
Outsole
• Clear injected TPU

Holder
• TUUK LIGHTSPEED EDGE

Runner
• TUUK super stainless steel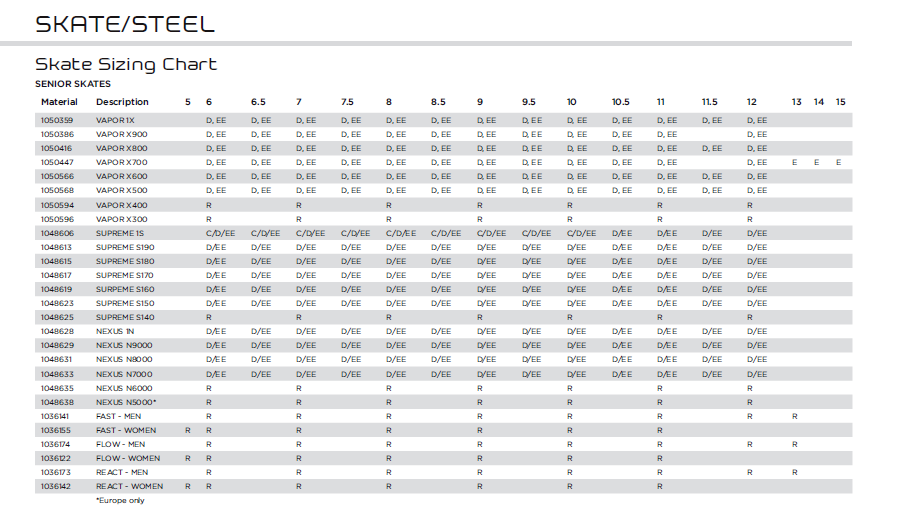 Product Reviews
Login to Write A Review
Great Skates
Great skates for the price! Didn't expect anything else from Bauer! And if you're shopping in the Cleveland area, Rory is so helpful and full of information and tips...thank you!
Solid Vapor
My old Vapor 10s from the early 2000s finally worn out beyond repair so I was looking for a decent budget skate. The X500s are a no frills Vapor, but only when compared to higher end models. The features on this skate rival CCM's in the $400 range. The boot is light and stiff and delivers great stride response. I did swap the stock insoles for custom ones and that improved the fit even more. It's still early in the break-in process, but I am very happy with the purchase.
Product Usually Ships Within 1 Business Day.