CCM Hockey Skate Insole
Style/Model #: CCMINSOLE

$49.99
In Stock
Condition: New
Spend $199 and get 6 months to pay +2% Cash Back with Blispay Learn More
CCM has taken the next step in hockey skate advancement. They have developed custom support insoles powered by Currex Sole. Your foot is a sensor and by providing full contact to the foots sole, the myofascial structure of the foot is fully activated stimulating greater reaction in the foot muscles for enhanced speed.
The creation of 3 types of foot beds helps to properly fit different styles of feet from very flat feet to feet with a very high arch.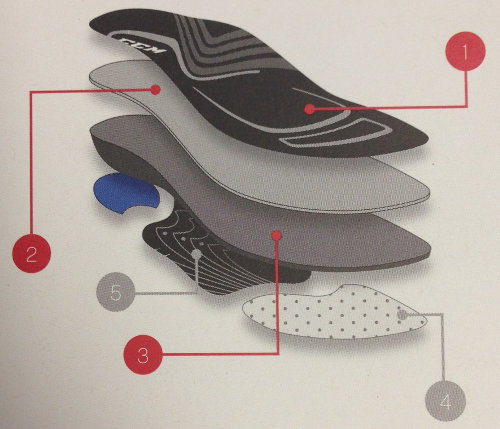 1: Breathable fabric that allows moisture to diffuse sweat into the middle layer

2: Freeflex memory foam absorbs moisture and reduces foot odor. The foam adapts to the contours of your foot improving fit.

3: curEVA: A unique shock absorbing material that provides optimum cushioning

4: RPD System: Rivet Pressure Distribution, optimizing forefoot comfort and reducing stress

5: Dynamic Arch Support: Designed to redistribute pressure evenly and stabilize excessive movements which lead to injury. The DAC differs in density, shape, and responsiveness dependent on foot type and length.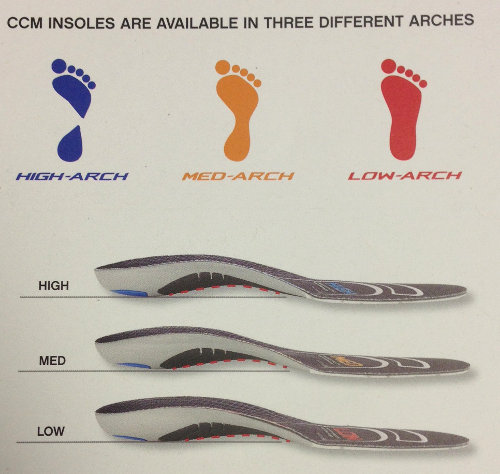 Match the size of your skate with the corresponding insole size and choose the arch that best matches your foot.
CCM Custom Support Insoles
• Myofascial Structure stimulating greater
reaction
• Enhanced Speed
• Greater Comfort
• Different Sizes Available and ranges from
flat to high arch

Product Reviews
Login to Write A Review
really helped
These really helped me find a good fit in my skates. I have low arches so I thought skates always felt to narrow. It turns out that the problem was with low arches your foot squishes out more than it should. With the right supports my skates feel so much
good comfort but for a large price tag
Good arch support. May be better just to save $50 and add the money for better skates
Product Usually Ships Within 1 Business Day. This product can not be shipped out of the US.