CCM Ribcor 66K Hockey Skate- Sr
Style/Model #: SK66KSR

$299.99
In Stock
This product is not eligible for any discounts! Shipping limited to United States only!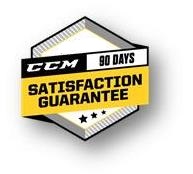 CCM Ribcor 66K Hockey Skate features an injected quarter package with composite mesh skin for a durable boot with structural stiffness. A Heavy duty Micro-fiber liner is comfortable and has a high resistance to wear. A 7mm Felt tongue with embossed lace-bite protection offers reinforcement layers for increased comfort and protection. A reinforced injected outsole with exhaust system provides a solid energy transfer profile. The CCM Anatomical response footbed provides great support and comfort. A Speedblade 4.0 holder provides proven durability with an increased attack angle that provides players with greater strides and tighter cornering. Speedblade Stainless Steel runner provides a long lasting edge for long term performance.
CCM Ribcor 66K Hockey Skate

Quarter Package
• Injected with Composite Mesh Skin
• Durable boot with structural stiffness

Liner
• Heavy Duty Micro-Fiber
Tongue
• 7mm Felt Tongue with Embossed Lace-Bite Protection

Outsole• Solid energy transfer profile

Footbed
• CCM Anatomical Response
• Provides support & comfort

Holder
• Speedblade 4.0
• Proven durability with increased attack angle providing greater strides and cornering

Runner
• Speedblade Stainless Steel
• Longer lasting edge
• Long term performance

Product Reviews
Login to Write A Review
Best Decision
After getting poor fitting entry level skates from big box sporting goods store went to Peranis and discussed problems. Excellent rep fitted me properly with these 66K's & I couldn't be happier. After not skating for over 40 years, a short break in period and I can skate better than I can remember. Comfort & confidence. Money well spent.
Very happy with these
Was skating in a pair of cheap 2015 Vapor X300s and wanted to upgrade. Tried Vapor X500s and just found them wait too tight in the heel. On advice from guy in the Ann Arbor shop, I tried on the Ribcors and they felt great. Had them for a couple months now and couldn't be happier. They've got just enough flex to fit my weird feet correctly, but not so much flex that they aren't stiff enough. Just for background on me--play in one game a week and typically hit sticks & pucks once or twice a week, too.
Great Skates
These are by far the most comfortable skates I've owned. The combination of being available in wide width and having a moldable boot made this the perfect choice for me. The Flint store was out of stock but were able to have a pair sent in from another location. Wonderful customer service is what has kept me going back to Perani's Hockey world for many years.
Product usually ships in 1 business day. This product can not be shipped out of the US.