CCM Ribcor 68K Hockey Skate- Jr
Style/Model #: SK68KJR

$299.99
In Stock
This product is not eligible for any discounts! Shipping limited to United States only!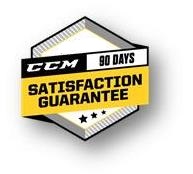 CCM Ribcor 68K Hockey Skate features a 3D-lasted composite quarter package with forward flexion and a lateral stability design that aims to maximize the skater's stride. The Core of this skate features FLEXFRAME™ technology which are flexion zones in the eyelet area that combine with strategic reinforcements throughout the rest of the core to offer a bio-mechanically corrected stride. A TOTALDRI Liner with Durazone Abrasion Protection offers a high performance moisture-wicking material that keeps feet dry and skates light. A Smooth contour pro comfort pad around the collar of the boot provides greater foot & ankle comfort. A multi-density symmetrical foam comfort pad wraps around the foot for a custom fit and added comfort. A 7mm felt tongue with embossed lace-bite protection provides reinforcement layers for increased comfort and protection. A Reinforced composite outsole provides a stiff profile that helps generate energy transfer. A CCM Anatomical response footbed provides great(er) support and comfort. A Speedblade 4.0 holder offers proven durability with an increased attack angle to provide great(er) strides and tight(er) corners. Speedblade Stainless steel runner offers a long lasting edge and long term performance.
CCM Ribcor 68K Hockey Skate

Quarter Package
• Composite Quarter
• 3D-lasted quarter with forward flexion and lateral stability design to maximize skating stride

Core
• FLEXFRAME Technology
• Flexion zones in the eyelet area
• Strategic reinforcements throughout the core for bio-mechanically correct stride

Liner
• TOTADRI Liner with Durazone Abrasion Protection
• High performance moisture-wicking material
• Keeps feet dry & skates light

Comfort Pad
• Smooth Contour Pro
• Soft pad around collar of the boot for foot and ankle comfort

Ankle Padding
• Multi-Density Symmetrical Memory Foam
• Wraps around foot for custom fit and comfort

Tongue
• 7mm Felt Tongue with Embossed Lace-Bite Protection

Outsole
• Reinforced Composite
• Stiff profile helps generate energy transfer

Footbed
• CCM Anatomical Response
• Provides support & comfort

Holder
• Speedblade 4.0
• Proven durability with increased attack angle provides great(er) strides & cornering

Runner
• Speedblade Stainless Steel
• Long lasting edge
• Long term performance

Product usually ships in 1 business day. This product can not be shipped out of the US.