CCM Ribcor 70K Hockey Skate- Sr
Style/Model #: SK70KSR

$699.99
In Stock
Condition: New
Spend $199 and get 6 months to pay +2% Cash Back with Blispay Learn More
This product is not eligible for any discounts! Shipping limited to United States only!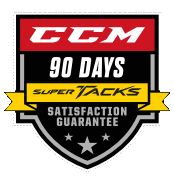 CCM Ribcor 70K Hockey Skate features a 3D-lasted composite quarter package with forward flexion and a lateral stability design to maximize the skater's stride. The Ribcor 70K affords wearer a flexible; contoured fit. FLEXFRAME Technology at the core incorporates flexion zones into the eyelet area that when combined with strategic reinforcements in the rest of the core, offer a bio-mechanically correct stride. TOTALDRI liner with durazone abrasion protection offers wearer a high performance moisture-wicking material designed to keep feet dry and skates light. A smooth contour pro comfort pad around the collar of the boot provides comfort to your feet and ankles. A Multi-density symmetrical memory foam comfort pad wraps anatomically around the foot for a custom fit and added comfort. A 7mm TRITECH Pro Tongue with Molded Lace-bite protection with HOPE foam provides increased comfort and protection. A Lightweight composite midsole enhances the energy transfer platform for blade-to-boot interface. An extra stiff carbon composite outsole with exhaust system offers torsional rigidity to maximize energy transfer. Griptonite Footbed locks a player's foot in the skate while providing support & comfort. Speedblade 4.0 Holder provides proven durability with an increased attack angle that provides greater strides and tighter cornering. Speedblade Black is an oxide-treated runner that provides a harder runner with a longer edge life that dutifully resists corrosion.
CCM Ribcor 70K Hockey Skate

Quarter Package
• Composite Quarter
• 3D-lasted with forward flexion and lateral stability and design to maximize stride

Fit
• Flexible Fit
• Contoured and snug fit for all players

Core
• FLEXFRAME Technology
• Flexion zones in the eyelet area
• Strategic reinforcements throughout core for a bio-mechanically correct stride

Liner
• TOTALDRI Liner with Durazone Abrasion Protection
• High performance moisture-wicking material
• Keeps feet dry & skates light

Comfort Pad
• Smooth Contour Pro
• Soft padding around collar of the boot for fit and ankle comfort

Ankle Padding
• Multi-Density Symmetrical Memory Foam
• Wrap anatomically around foot for customized fit & comfort

Tongue
• TRITECH Pro Tongue with Molded Lace-Bite Protection

Midsole
• Lightweight Composite Midsole
• Enhanced energy transfer platform for blade-to-boot interface

Outsole
• Extra Stiff Carbon Composite with Exhaust System
• Offers Torsional rigidity to maximize energy transfer

Footbed
• Griptonite
• Locks players foot to skate while providing support & comfort

Holder
• Speedblade 4.0
• Proven durability with increased attack angle for greater strides & cornering

Runner
• Speedblade Black
• Premium blade with oxide treatment gives you a tougher / harder runner
• longer edge life
• Corrosion resistance

Product Reviews
Login to Write A Review
Great Skate
It was time to replace my Reebok 11Ks but I was reluctant because I read that the new Ribcore line fits differently than before. I went to Peranis and tried on several pairs of skates to get a feel for the current product line up. There is no substitute for trying on skates before buying. Much to my surprise, these skates fit like my 11Ks but even better. I had them baked and I am very comfortable in them after the first game. Extremely comfortable skate, very lightweight, and excellent heel lock. Extremely happy with them. The weight reduction makes a big difference. I have always envied the lightweight Bauer products, however, the CCM boot and "lean forward" style simply fits my foot better. There is no more important piece of equipment to have properly fitted than skates.
Product usually ships in 1 business day. This product can not be shipped out of the US.