The Warrior Burn Glove features a new VPS foam backhand that reduces weight while providing a superior protection and venting properties. The Clarino Palm Construction improves feel and flexibility while adding Truvent and Switch Cuff Technologies. The Burn Glove is customizable to match your team colors to have a unique look no one else will have. The switch cuff system features an interchangeable cuff that works with the Riot Models also. The Wartech moisture Management liner assists in lower moisture keeping your hands drying and cleaner. The Floating Cuff is a patented technology that allows for a small internal wrist cuff to be attached to the glove with elastic straps allowing additional protection without sacrificing and flexibility to the wrist. The new Warrior Burn Glove is a great glove for the aggressive Lacrosse Player.



Warrior Burn Lacrosse Glove '15
• Legendary Warrior Burn speed, now in gloves
• New clarino palm for improved comfort and feel and flexibility
• New VPS foam backhand reduces weight while providing superior protection and venting
• Cuffs are interchangeable with all burn and riot cuffs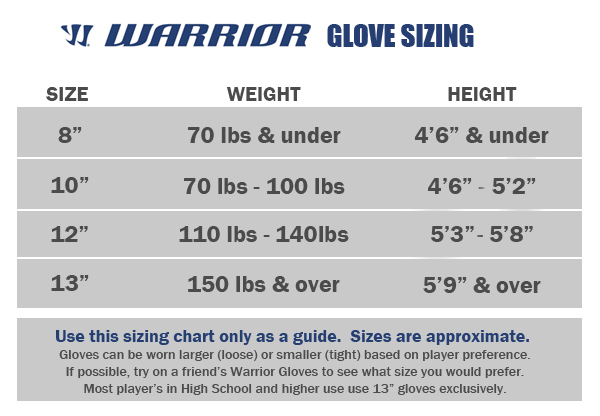 Product Usually Ships Within 1 Business Day. This product can not be shipped out of the US.