WARRIOR Swagger Pro LT Goal Stick- Sr
Style/Model #: GSSWAGPRLTSR

$139.99 $189.99
Currently Unavailable
Condition: New

The Warrior Swagger Pro LT goal stick is new for 2014 and is available at Perani's Hockey World. This goal stick is made in Canada with the highest of quality standards. To make this stick lighter, the shaft is made of Carbon Composite, and the thin paddle and blade are made with a foam core.
A 3K carbon laminate over the blade and paddle are added to the stick to increase the durability. This combination of durability and weight allow for optimal performance from all goaltenders.
WARRIOR Swagger Pro LT Goal Stick

• Fusion of Carbon/Foam Construction – Super light and Stable

• High Modulus 3K CARBON Laminate on Blade & Paddle

• Thin Molded PolyUrethane Foam Core

• High Impact Light weight Carbon Shaft

• Pro Neutral Zone Weight – Light Feel on Blade & Handle

• Made in Canada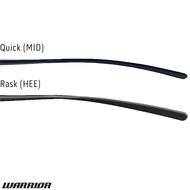 Product Usually Ships Within 1 Business Day. This product can not be shipped out of the US.